Hello and welcome to the 19th installment of the SWD. Finally after a long overdue, an official Twitter account for the SWD is up and running @SyrianWarDaily. Feel free to send a message if you have an inquiry.
Military events are listed below by the governorates:
Aleppo:
More rumors are being spread about the SDF-Russia deal, newest one claims that SAA is going to take control of the Manbij city, if this turns out to be true it could spare Manbij and its surroundings from destruction and clashes which would take place between TFSA and SDF as the former tried to expel the latter from the city.
SAA allegedly already started to enter villages that SDF "conceded" in the deal and we could also see the Russian Military Police deployed in order to make sure that TFSA doesn't attack, this wouldn't be the first time RMP is deployed, they are already present in Aleppo and soon to be if not already in Serghaya, Damascus governorate.
Free Syrian Police entered Azaz after getting training in Turkey, goal of the police is to replace armed groups currently based in the city of Azaz, number of FSP officials that are going to be in Azaz is around 950.
TFSA showed footage of 4 captured SAA soldiers that are allegedly part of Air Force Intelligence, 1 more was killed according to them. They were captured when they tried to infiltrate area near Al-Sukariyah village, east of Al-Bab.
SDF repelled TFSA attacks towards Al-Hutah village and have recaptured Jubb al-Hamir from the latter. SDF's operation towards Al-Khafsa didn't achieve any significant gains, either the SDF is consolidating newly captured areas before advancing further, maybe even on to Al-Khafsa directly or the offensive was halted due to recent threatening TFSA actions.
SAA Tiger Forces captured a number of villages today in eastern Aleppo countryside; Al-Rawdah, Al-Rufai, Abu Jurayn, Rasm al-Kubar and a hill, Tell Ma'z. With their pattern of advances Tiger Forces are trying to get close to Al-Khafsa while at the same time slowly trying to encircle Deir Hafer.
West of Aleppo clashes occurred between rebels and SAA when latter advanced around Al-Zahraa district and took control of "Jihad" farms, captured farms couldn't be accurately located so that gives you the impression of how significant this advance really was. However, advances in this particular region could be part of an offensive to link with Nubl-Zahraa and besiege Anadan plains.
Map showing SAA advances in east Aleppo. Source: @v4st0
Homs:
A day after Palmyra was liberated once again, sources suggest that the operation will stop there and that there will be no further advances towards Al-Suknah or Deir al-Zour unless there is a new agreement between Russia, Iran and Syria. Current Palmyra salient is the same as the last one and it could be a recipe for disaster if IS launches the same offensive again.
According to the Head of the Main Operations Department at Russia's General Staff, Lieutenant-General Sergei Rudskoi at least 1000 IS militants were either killed or injured and "as many as 19 tanks were destroyed along with 37 infantry fighting vehicles, 98 pick-up trucks with installed heavy weaponry and over 100 other vehicles."
Full news release containing info about other areas can be found here on the Russian Ministry of Defense website.
Iraq:
Iraq Joint Operations officially announced full liberation of Wadi Al-Hajar district in west Mosul from IS. Even though it wasn't officially announced it appears that one phase is finished in Mosul as advances and clashes toned down in the city over the past couple of days, new advances are expected to start soon with fighting now in urban parts of west Mosul.
West of the Mosul in Nineveh province, situation in Sinjar (Shingal) became hostile between KDP and YBS. Conflict is purely politically motivated with KDP being backed by Turkey and YBS by PKK. Local Yazidis are in favor of the YBS-PKK because they were the first one to aid them militarily after KDP disarmed them, withdrew and left them at the mercy of IS.
There were even some unconfirmed news about PMU considering new operations with an aim to end all sieges on Yezidi, reportedly both KDP and IS imposed.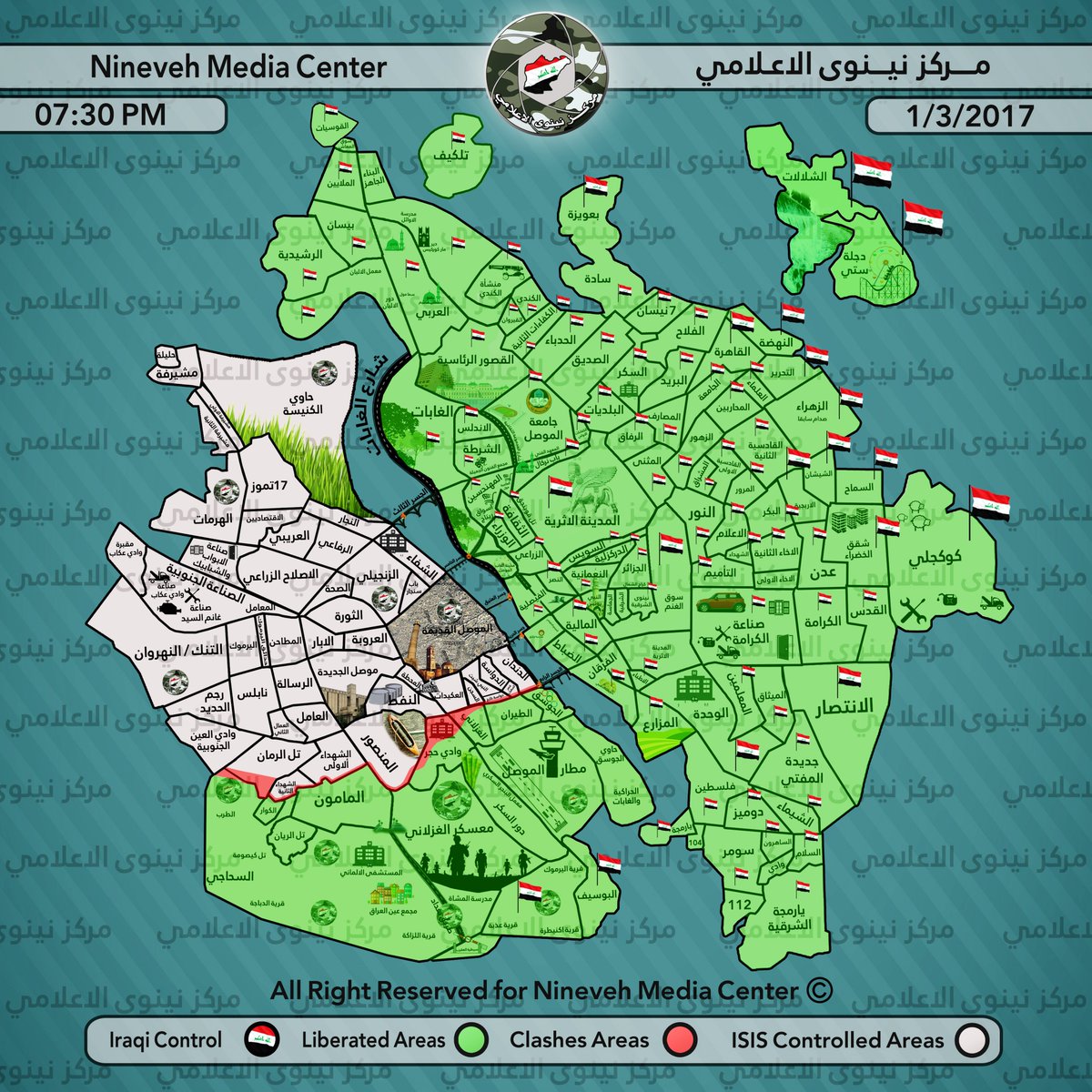 Map of Mosul from the 1st of March, not much has changed territory-wise. Source: @NinevehMC
On the 2nd of March 2017 CJTF-OIR has conducted 5 strikes in Syria. CJTF-OIR's main focus in Syria at the moment is still Raqqa where they did 4 strikes supporting SDF's operation against IS destroying an IS training camp, an IS-held building, a weapons storage facility and a vehicle bomb factory.
Other area where strikes occurred is Deir al-Zou destroying a wellhead and a pumpjack. Full report on CJTF-OIR strikes conducted in both Syria & Iraq can be found here.
Intellectual credited property used may vary from an edition to edition.
Feel free to voice your opinion in the comments section below, constructive criticism is welcomed.
For those of you interested, you can follow me on my personal, biased twitter @joskobaric where I occasionally tweet some things.