Hello and welcome to the 18th installment of the SWD.
Military events are listed below by the governorates:
Aleppo:
Huge development happened today with Manbij Military Council issuing a statement that they have made a deal with Russia to hand over territory to government forces in western Manbij bordering TFSA to protect the city from possible attacks. Little is known about the details of the agreed deal, it is unknown which exact area will be handed to the government and who will be stationed in that area.
Maybe a month ago there were rumors about SDF handing territory in Tal Rifaat-Menagh area to government in order to avoid getting attacked by TFSA. If TFSA was to change focus on Afrin region, SDF could repeat what just happened in Manbij and have SAA acting as buffer and "protector". However, no one can "save" SDF from getting attacked by TFSA if they attack from Turkish territory, which will be the only option for TFSA if SDF plays the "SAA card" on both fronts.
Turkish foreign minister Mevlüt Çavuşoğlu stated today that Turkey will continue to attack SDF in Manbij until they withdraw from it.
Full statement by Manbij Military Council in English:
"Defending the civilians and protecting them from the adverse impact of the war, ensuring the security of Manbj and frustrating the invasion plans of the Turkish army against Syrian soil are the goals we we have taken for all the peoples living on the lands of Syria.
In order to realize these goals of ours, we as Manbij Military Council state that we have handed over the defense of the line – where villages between the positions of our forces in western Manbij and Turkish-affiliated gangs are located- to Syrian state forces as part of the alliance we have made with Russian officials."
Source: ANF English
Tal Turin and Al-Qarah villages captured yesterday by TFSA are back under SDF control, the way they got under SDF's control is disputed, with pro-TFSA sources claiming that TFSA withdrew from villages following a deal that was announced today between SDF and Russia, on the other hand pro-SDF sources claim that they have expelled TFSA from aforementioned villages and reestablished control.
Even after the deal was announced clashes continued to rage over western countryside of Manbij. Clashes also occurred on Afrin front between SDF and TFSA, latter shelled Tal Rifaat and Sheikh Issa.
"Race" for Al-Khafsa continues with both sides making considerable advances against IS. SDF took Arbaah Saghirah, Mahsanah, Ras al-Ayn Humur & Arbaah Kabirah and SAA Tiger Forces Alisah, Zaraa, Talal Zaraa, Abu Tawil, Um Maal, Safri, Abu Kahaf, Um Talatl, Um al-Amd and Barlien.
Strange claim was shared by usually reputable Hezbollah media office, allegedly SAA captured Tafriyah Kabirah, Tafriyah Sagirah and Sukkariyah Sagirah, these villages were recently captured by TFSA from IS in a pocket made few days ago. There are multiple explanations to this situation, either villages were falsely claimed to be captured by TFSA or TFSA withdrew after the SDF-Russia deal was announced or the claim by Hezbollah media office is untrue and was spread for some unknown reason with an intent to deceive.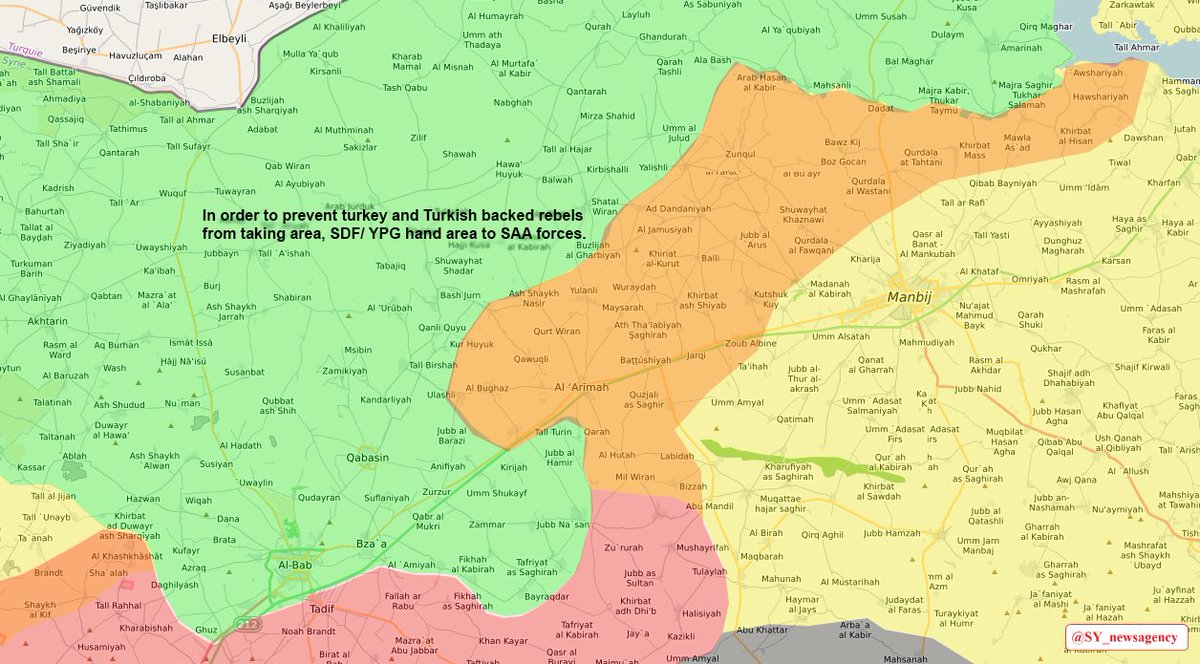 Area near Manbij that is going to be handed to government (Orange). Keep in mind that these are just speculations, some sources are more conservative with amount of space given to government, only west of Manbij. Source: @SY_newsagency
Latest map of eastern Aleppo countryside focusing on SAA's advances.. Source: Al-Masdar News
Homs:
According to the most sources, Palmyra has been liberated, again. It will be interesting to see if SAA is going to advance beyond Palmyra all the way to Deir al-Zour through Al-Suknah, the same pattern of possible future advances was already speculated after Palmyra was captured the first time. Situation compared to last year's is much more "advance-friendly" as there is some sort of "ceasefire" in place so there shouldn't be any distractions from rebel forces and Deir al-Zour is in need of a relief because situation has seriously deteriorated recently.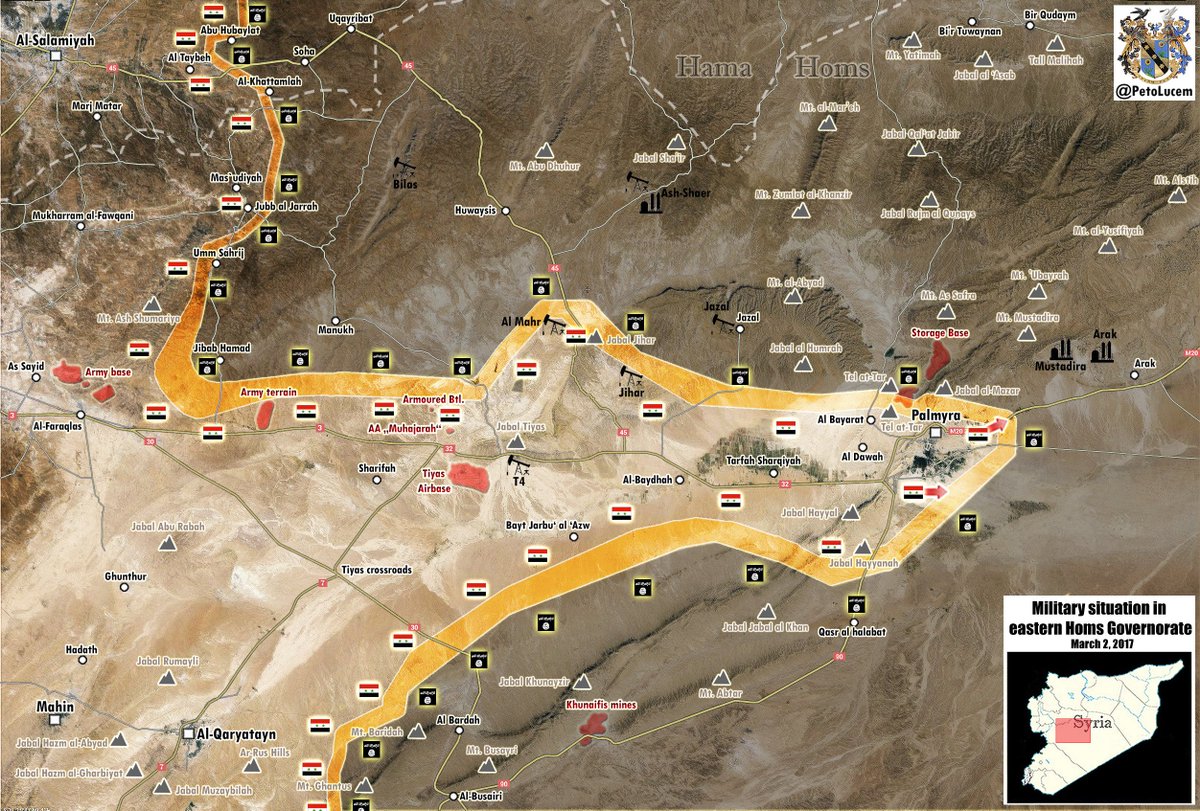 Map showing situation in eastern Homs after Palmyra's capture. Source: @PetoLucem
Iraq:
Not much has changed territory-wise in Mosul since yesterday, clashes are mainly occurring in Al-Dawasa district. However, despite the lack of progress in the city today, advances are being made in the northwestern outskirts of Mosul on the Mosul-Tal Afar road, army is 200 meters away from Al-Sham main gate.
Iraqi forces foiled an SVBIED attack in Zayona district, East Baghdad.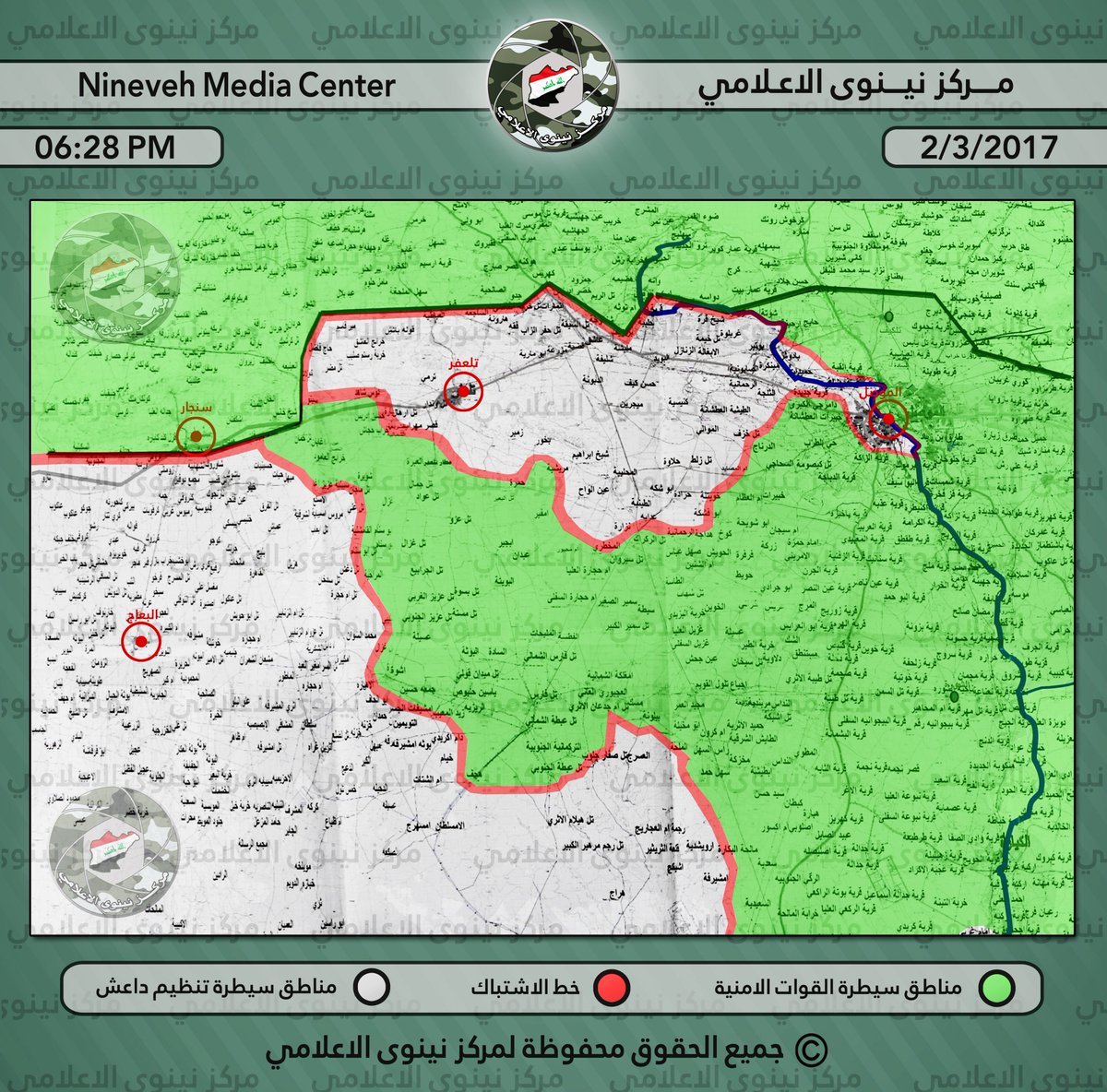 Map showing situation in Nineveh province. Source: @NinevehMC
On the 1st of March 2017 CJTF-OIR has conducted 11 strikes in Syria. CJTF-OIR's main focus in Syria at the moment is still Raqqa where they did 4 strikes supporting SDF's operation against IS destroying six watercraft, an ISIS training camp and an ISIS maintenance facility.
Other area where strikes occurred is Deir al-Zou destroying seven oil refinement stills, four wellheads, a pumpjack and a crane and damaged a bridge. Full report on CJTF-OIR strikes conducted in both Syria & Iraq can be found here.
Intellectual credited property used may vary from an edition to edition.
Feel free to voice your opinion in the comments section below, constructive criticism is welcomed.
For those of you interested, you can follow me on my personal, biased twitter @joskobaric where I occasionally tweet some things.