Hello and welcome to the 17th installment of the SWD.
Military events are listed below by the governorates:
Aleppo:
It looks like TFSA's operation to capture Manbij has started with them taking villages of Tal Turin and Al Qarah from SDF west of Manbij. With these advances TFSA is now at the outskirts of Arima, very important village which SDF can't afford to lose. There were little reports of SDF engaging TFSA during latter's attacks, it could mean that they are retreating to better defended positions.
Unconfirmed reports also claim that TFSA captured villages of Abu Hayj and Madiq Bughaz. Clashes on western Manbij front took place in villages of Kirhoyuk, Bughaz, Abu Hayj and Hutah, new statement by Hawar Kilis operations room claimed that in clashes in Hutah 7 SDF members were killed, full statement can be found here. Turkish army Maroon Berets are allegedly taking part in the advances against SDF.
More rumors are being spread among pro-TFSA sources suggesting that double offensive against SDF might be happening. Capability of TFSA to launch even one successful operation against SDF was question by many, if they manage to pull off two of them successfully it will be nothing short of impressive, however, it is important to note that TFSA is backed by both Turkish army and air force.
However, attacks by TFSA still haven't managed to make SDF stop their offensive to Al-Khafsa, today SDF captured Maqbarah, Abu Mandil, Maqta Hajar as Saghir and Abu al Khaf from IS. It is still unclear if SDF's operation is in coordination with SAA or they are just trying to block the latter's movement towards Al-Khafsa. Airstrikes by Turkey were reported on Menagh airbase and Tal Rifaat and shelling by artillery around western Manbij area.
Turkey threatened today that they will close Incirlik airbase, currently used by US-led coalition if they do not supporting SDF. Turkey has said the same thing multiple times in the past, but this time it may mean it as operations against SDF are expected to intensify in the near future.
SAA Tiger Forces didn't make any significant advances against IS today and just took control of Janeh Saleh.
UN Human Rights Council released 37 page special report accusing both rebel and government forces of committing war crimes in East Aleppo and criticizing them both on how poorly they handled the situation, full report in multiple languages can be found here.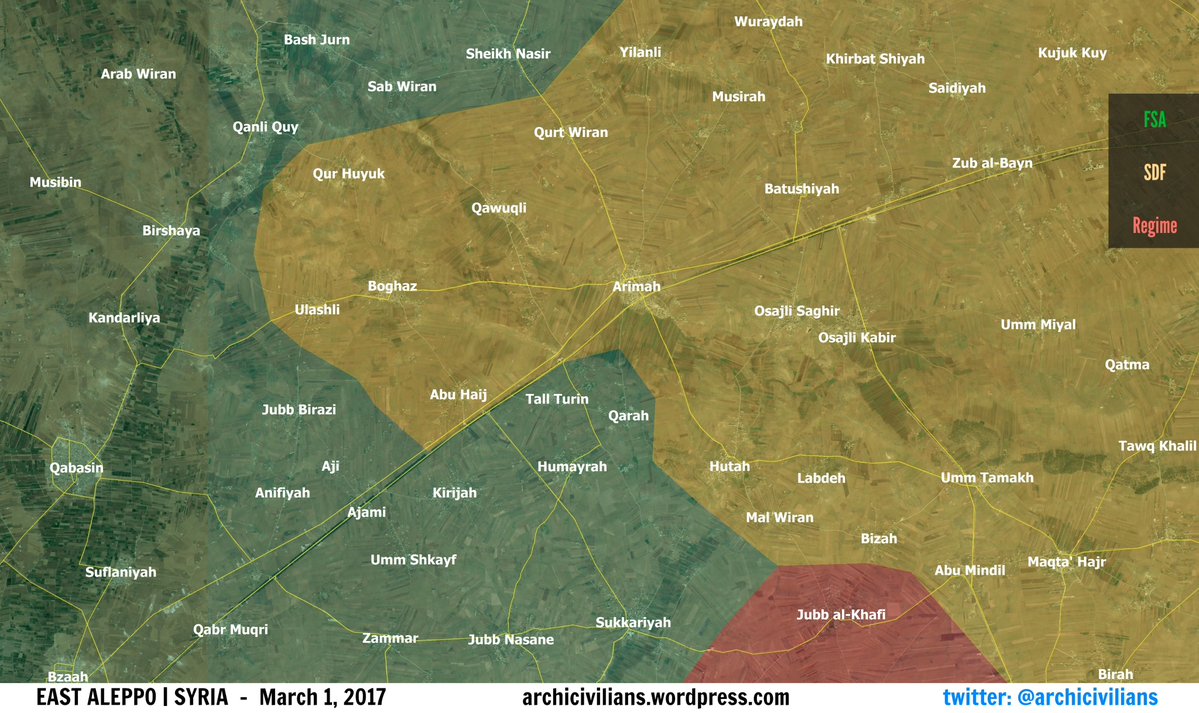 Map showing situation in eastern Aleppo after gains made by TFSA against SDF. Source: @archicivilians
Homs:
Big advances were made today by SAA in an effort to capture Palmyra again, areas captured today include; Palmyra triangle, Jabal Hayyal, Jabal Tar, Palmyra castle and Qatari villa. Unconfirmed reports / rumors claim that SAA took control of Amiriyah, Palmyra airport and has entered 1st neighborhoods of Palmyra.
With high ground captured around the city, it is only a matter of time before Palmyra is captured, IS used the same tactic when they captured Palmyra in December of 2016. Let's just hope that this time Palmyra is liberated for good and never falls to IS again.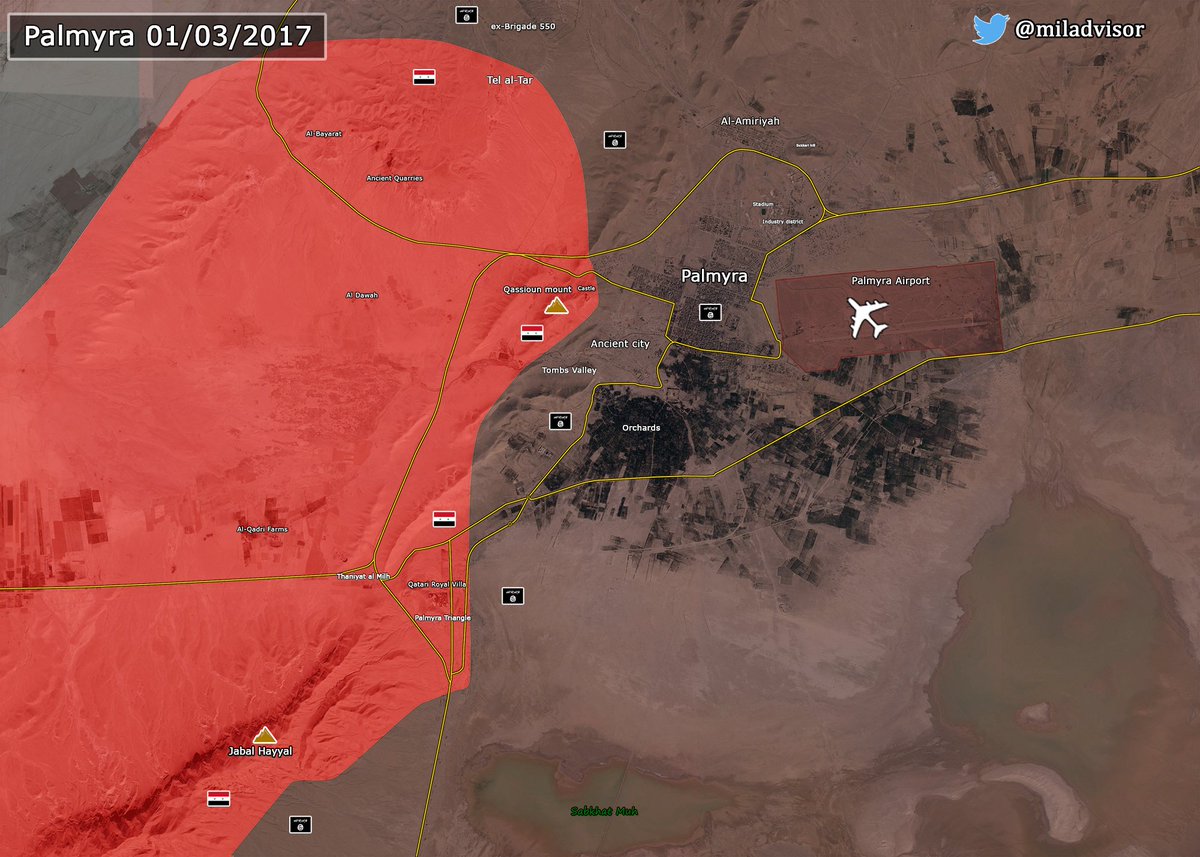 Map showing situation in Palmyra after the latest advances. Source: @miladvisor
Iraq:
Iraqi army continues making progress in the western outskirts of Mosul taking control of Badoush prison and clash with IS in Badoush village. It is expected that Iraqi army continues pushing to the west in order to tighten the siege of Mosul.
On the southern outskirts of Mosul, Iraq Joint Operations officially announced Al-Mamun apartment complex completely liberated. In the city of Mosul itself, clashes are happening near Al-Dawasa in the vicinity of government complex and in Wadi Hajar district which is reportedly 75% liberated.
After PMU captured a handful of villages near Tal Afar, reports are coming that preparations are done for the attack on the town itself.
US officials stated that the new version of Donald Trump's infamously known "Muslim Ban" will not include Iraq, previous version of the ban was nullified by a federal judge.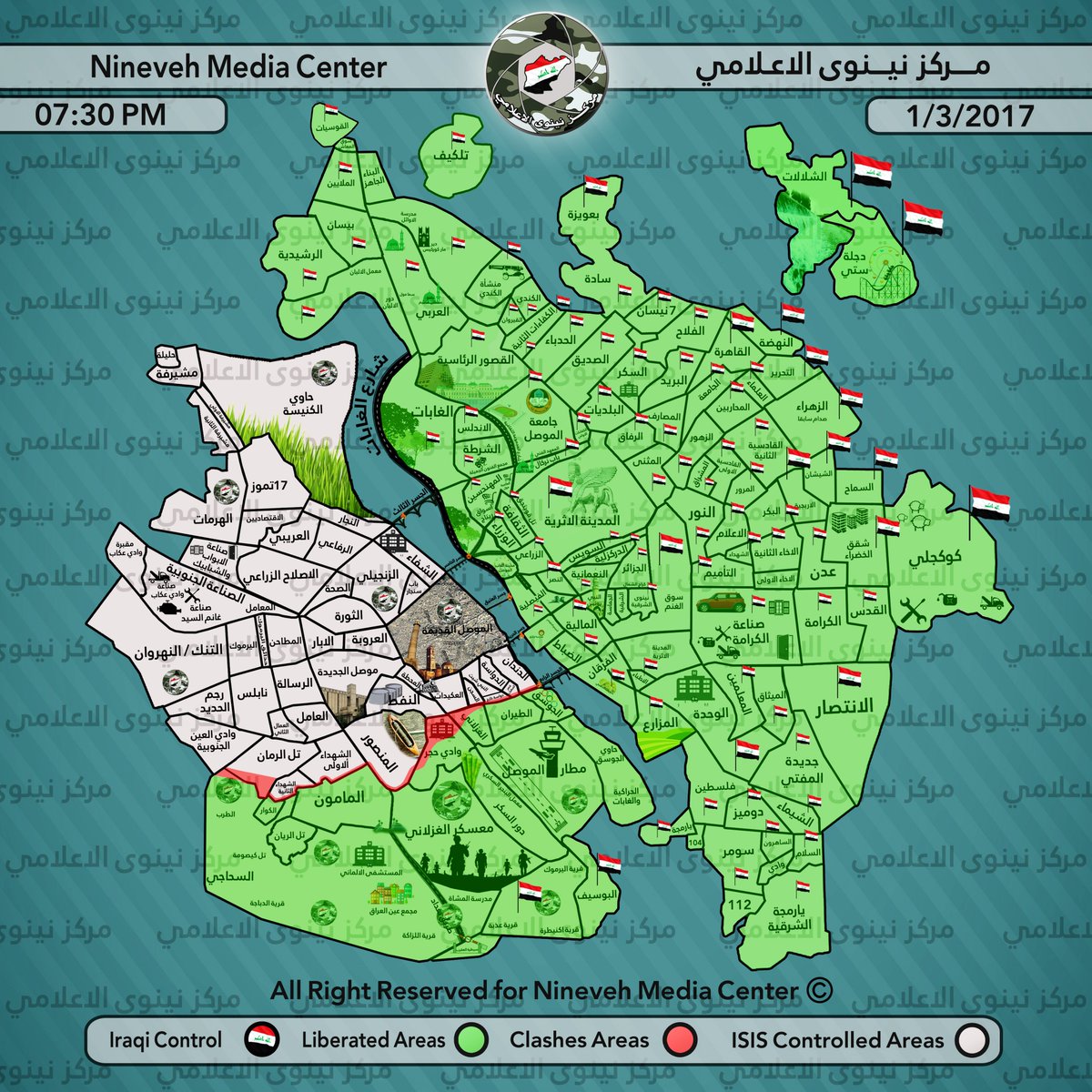 Latest map of Mosul. Source: @NinevehMC
Greater map of Mosul area showing location of Badoush prison. Source: @loomisroberto
On the 28th of February 2017 CJTF-OIR has conducted 15 strikes in Syria. CJTF-OIR's main focus in Syria at the moment is still Raqqa where they did 9 strikes supporting SDF's operation against IS destroying two wellheads, two fighting positions, an oil storage tank, an IS-held building, an IS headquarters, a tunnel, a vehicle and a vehicle bomb.
Other areas where strikes occurred include Deir al-Zour and Palmyra destroying nine oil refinement stills, two barges, a watercraft, a vehicle & an oil tanker truck and five tanks, respectively. Full report on CJTF-OIR strikes conducted in both Syria & Iraq can be found here.
Intellectual credited property used may vary from an edition to edition.
Feel free to voice your opinion in the comments section below, constructive criticism is welcomed.
For those of you interested, you can follow me on my personal, biased twitter @joskobaric where I occasionally tweet some things.