Hello and welcome to the 11th installment of the SWD.
Military events are listed below by the governorates:
Aleppo:
Today, the Al-Bab saga finally ended, faster than anyone expected, how it ended is still a bit unclear, some are claiming there was a deal between TFSA and IS and others claim IS just withdrew from the town. Shortly after Al-Bab, the fall of Qabasin, Bzaah and Tadef followed indicating that IS gave up on this region and might prioritize other fronts, like Deir Hafer or Raqqa. If there is any truth to the previously agreed RUS-TR demarcation line which was highway south of Al-Bab, TFSA will have to retreat from Tadef and hand it over to the SAA.
It will be interesting to see where TFSA goes next after Al-Bab, it will most likely be somewhere against SDF, either Manbij which was always mentioned by Turkey as one of the ES goals or Afrin area where most of the shelling and clashes occur between the two. To bolster a claim about the latter option, there was shelling reported on SDF-held Tal Rifaat.
Clashes between SAA and rebels continue west of Aleppo with some unconfirmed reports that the former managed to make a small advance on Zahraa front. Airstrike hit military research center located at the frontline killing a number of rebels, numbers reported vary between 15 and 20, but in reality they could be lower.
SAA Tiger Forces continued their advance in eastern Aleppo countryside and have taken control of Rasm Al-Shiekh and Rasm Al-Hrmel villages from IS.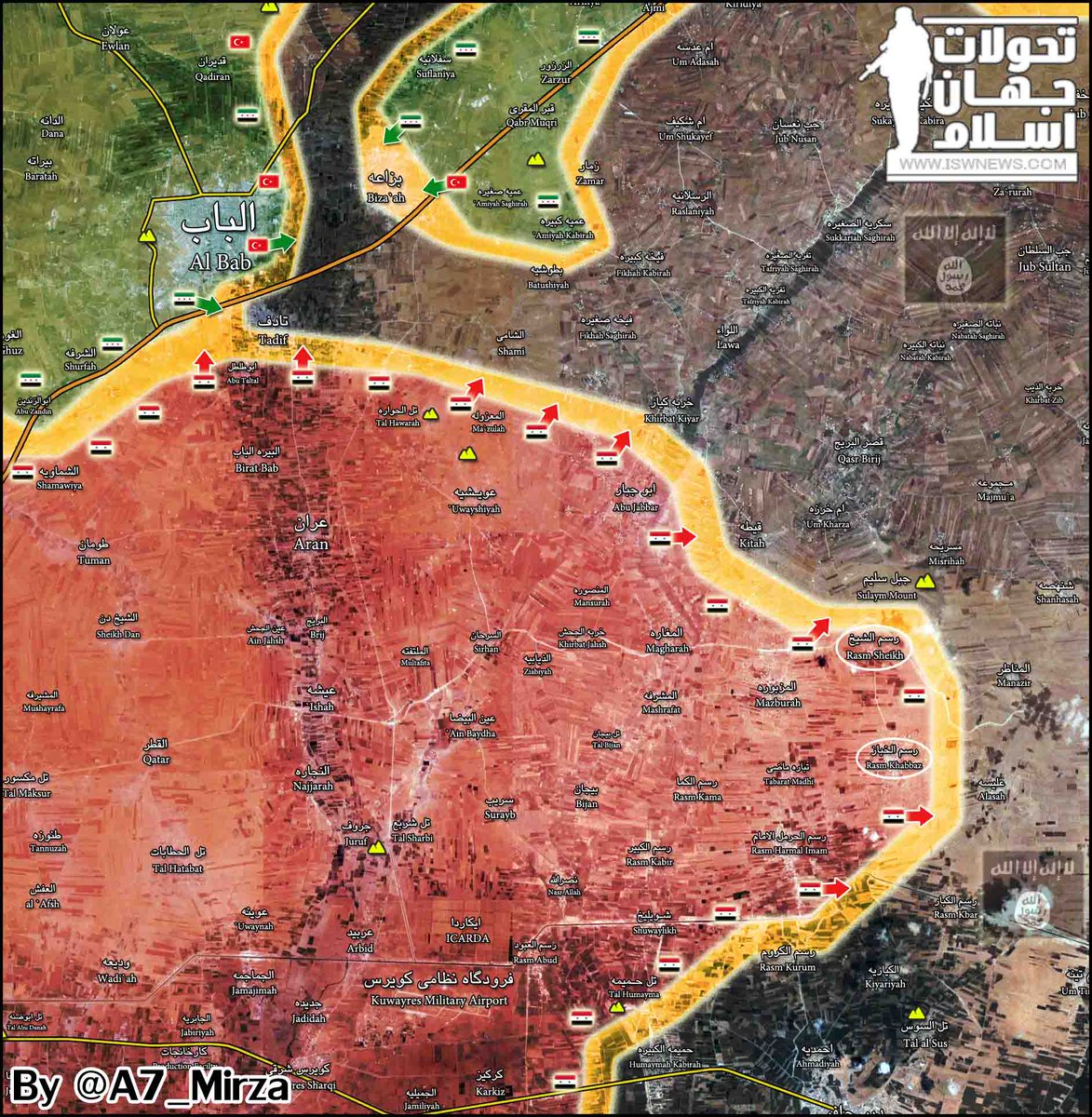 Map showing SAA advances in the eastern countryside of Aleppo, map does not show the latest TFSA gains. Source: @A7_Mirza
Raqqa:
SDF cleared IS pocket that was made yesterday, and took control of number of villages such as; Balash, Azman, West Fenan,Qandil Shrki, Mhbash and Abu Jandal.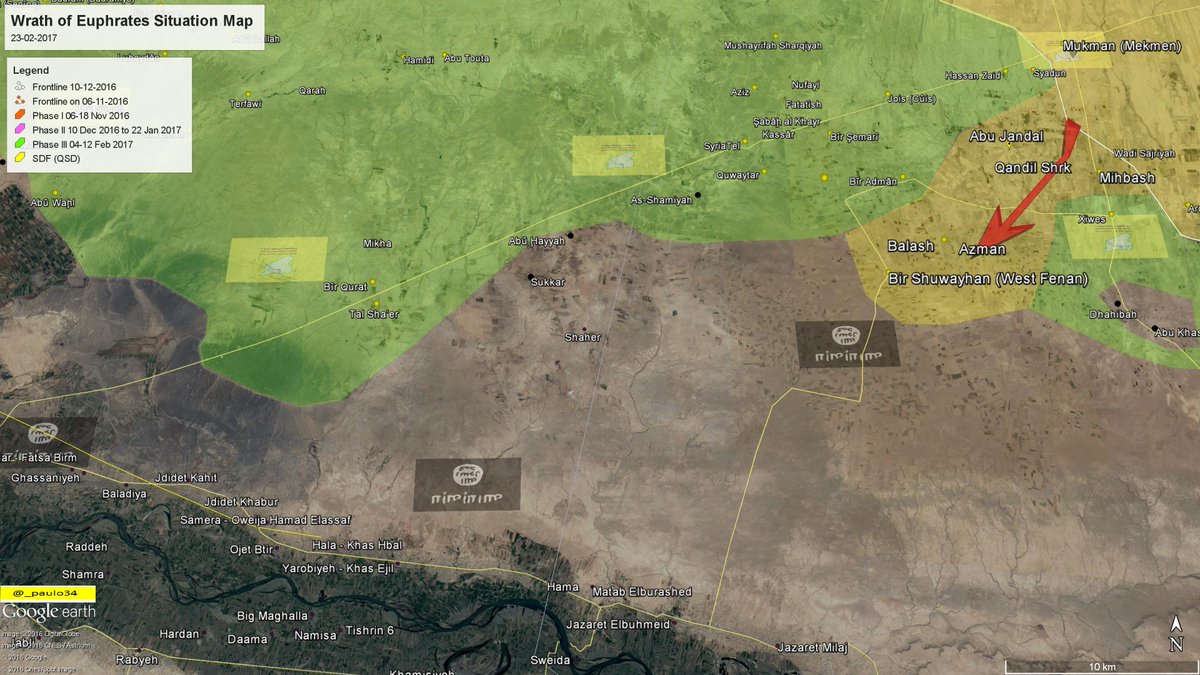 Map showing SDF advances around Raqqa: Source: @_paulo34
Daraa:
Situation in Daraa governorate remained the same territory-wise with some reports coming that SAA launched / is about to launch a counteroffensive to reverse gains made by rebels in Al-Manashiyah district and maybe even advance further. An increase in SyAAF raids was present today, indicating that the offensive may be looming. Heavy clashes continue in Al-Manashiyah and reports of another SVBIED by rebels.
Iraq:
Iraqi army advanced today and took most of the Mosul International Airport, with some sources claiming it was fully captured, Al-Rayan hills west of Al-Ghazlani camp were also captured. Some bad news are also coming from Iraq, as the Iraqi army advances in Mosul, suicide attacks are becoming daily activity in Iraq.
Just today, 3 SVBIEDs were reported near Al-Khalis district, Diyala province, resulting in 13 deaths, 3 injuries, closure of Baghdad-Kirkuk road, curfew and closure of Al-Khalis. Another SVBIED attempt by IS sleeper cell was foiled in the western part of Karbala province, perpetrator was neutralized and VBIED defused. In Jurf Al-Naddaf, south east of Baghdad a SVBIED was destroyed before reaching its target.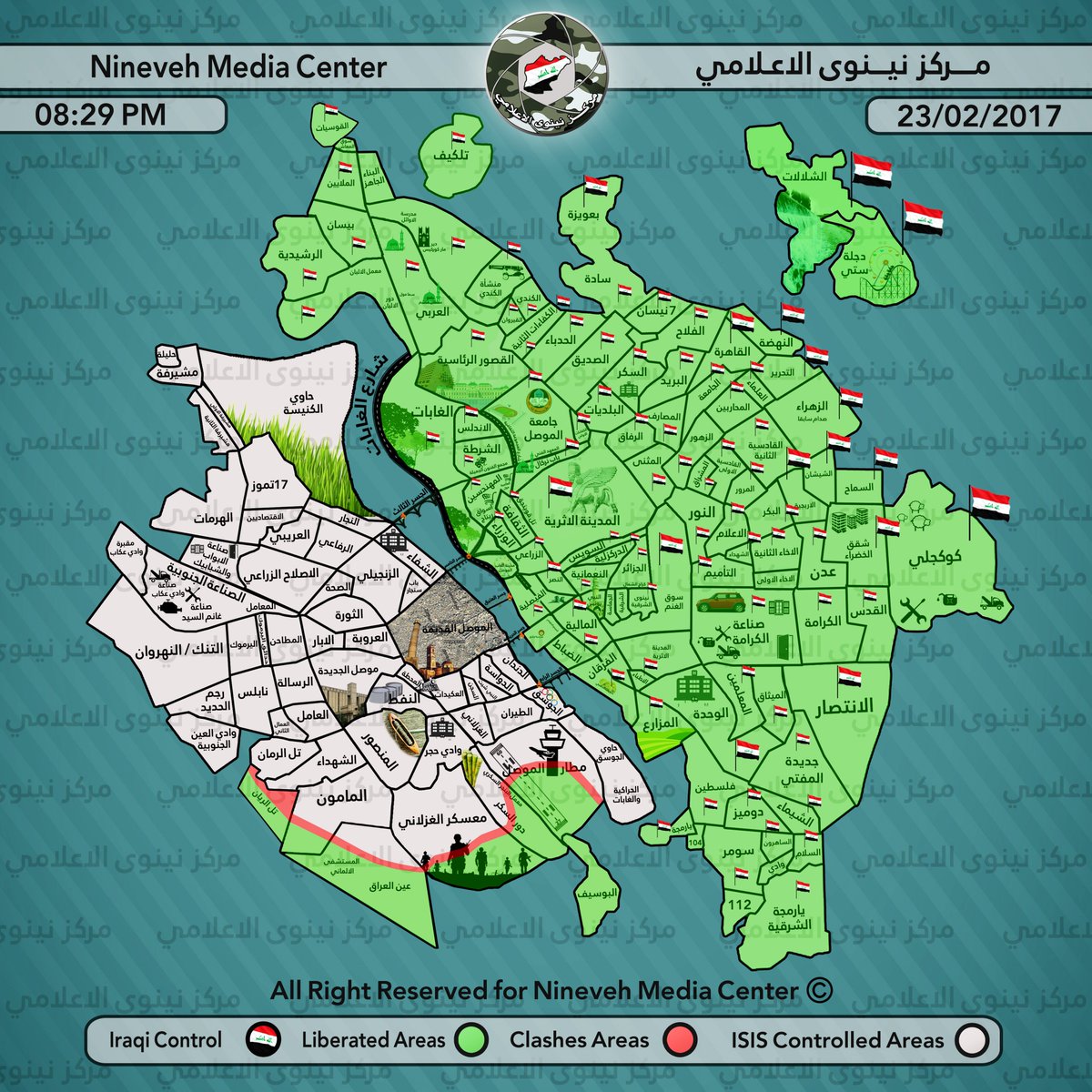 Map showing situation in western Mosul. Source: @NinevehMC
On the 22nd of February 2017 CJTF-OIR has conducted 23 strikes in Syria. CJTF-OIR's main focus in Syria at the moment is still Raqqa where they did 10 strikes supporting SDF's operation against IS destroying three fighting positions and three tactical vehicles; and damaged two bridges.
Other areas where strikes occurred include Deir al-Zour and Palmyra destroying seven modular oil refineries, two workover oil rigs & a pump jack and a tactical vehicle, a heavy machine gun and a pump jack, respectively.  Full report on CJTF-OIR strikes conducted in both Syria & Iraq can be found here.
Intellectual credited property used may vary from an edition to edition.
Feel free to voice your opinion in the comments section below, constructive criticism is welcomed.
For those of you interested, you can follow me on my personal, biased twitter @joskobaric where I occasionally tweet some things.