Hello and welcome to the 6th installment of the SWD.
Military events are listed below by the governorates:
Aleppo:
TFSA launched another attempt to capture Qabasin and Bzaah from the IS east of Al-Bab. IS has been putting a good fight in these two towns repelling over a dozen previous attempts by TFSA to control it.
In the city of Al-Bab itself, TFSA took control of the northern entrance located at Al-Rai roundabout.
Al-Hamza Brigade, part of TFSA also claimed control of western districts of the city, if these advances are confirmed situation in the northern Al-Bab should be about the same as it was few days ago before TFSA was pushed out by IS.
Raqqa:
SDF continue their advance on multiple axis against IS, reportedly taking control of number of villages; Juways, Shwayhan, Balash, Bir Adman and more…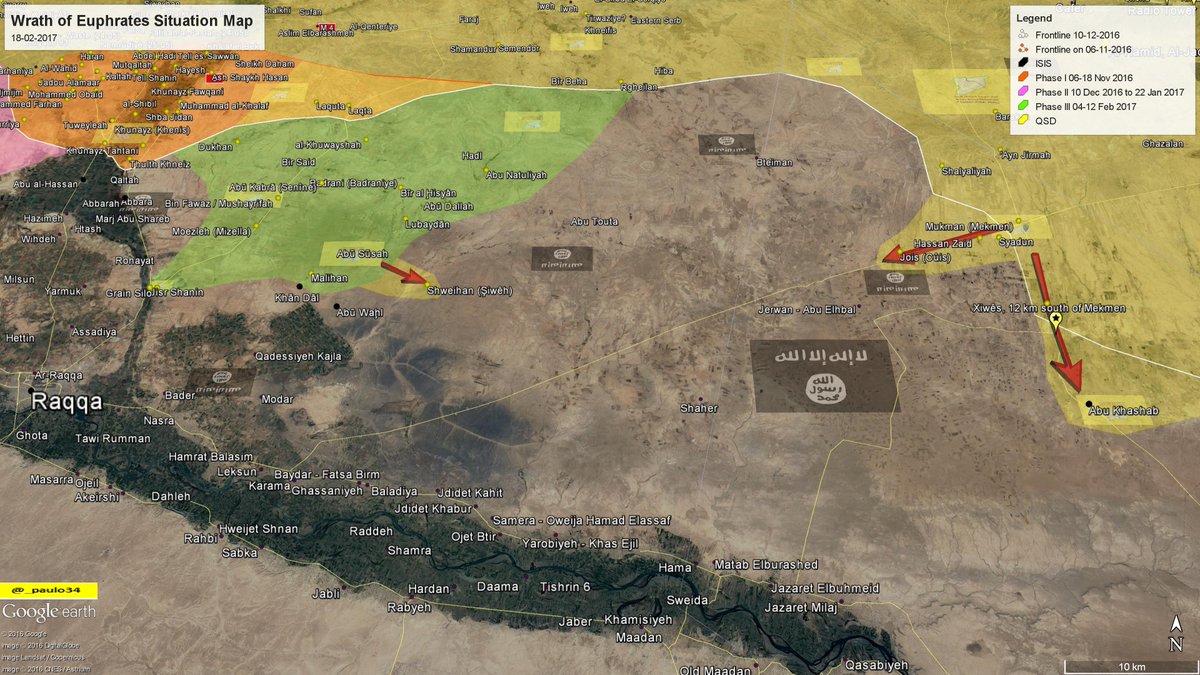 Map showing advances made by SDF on several axis. Source: @_paulo34
Damascus:
Reportedly a big military operation by SAA to capture Qaboun-Barzeh pocket has started, this doesn't come as a surprise because since last week there were unconfirmed reports from the pro-government side about potential operation in this area. Qaboun-Barzeh operation is a prelude to an even bigger operation enveloping whole E. Ghouta pocket.
The aforementioned pocket is important to E. Ghouta because of its tunnel network used to smuggle items undermining the overall "siege" of Ghouta. What government hopes to achieve from this are tighter siege of Ghouta and safer Damascus and its surroundings.
There is no doubt that SAA will be able to capture the pocket, it is up to militants to decide whether they want to reconcile now and prevent unnecessary bloodshed & destruction or be stubborn and reconcile after they've been pushed into a corner.
Also a thing to keep in mind, Qaboun-Barzeh pocket has a significant Nusra (JFS, HTS) presence.
For more info about Qaboun-Barzeh and whole of E. Ghouta, read a very good report called Into the Tunnels by Aron Lund.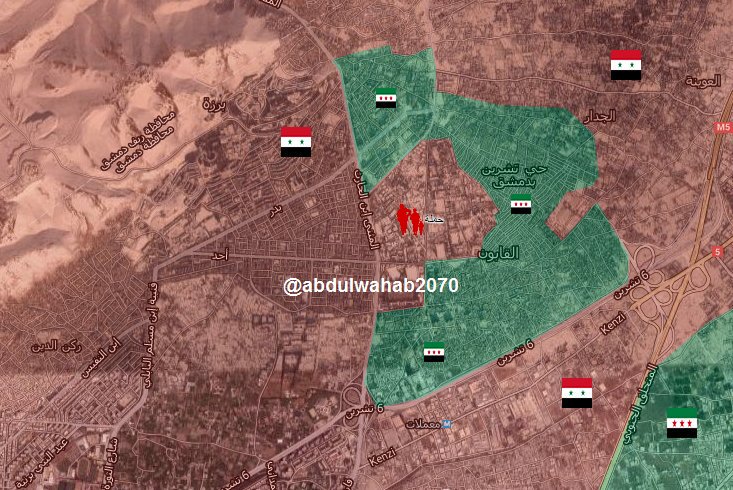 Map showing Qaboun-Barzeh pocket, E. Damascus. Source: @abdulwahab2070
Daraa:
For the past few days situation in Daraa remains unchanged with clashes still raging in Al-Manashiyah district. The reason Daraa is listed here is because IS media outlet Amaq released new statement claiming responsibility for the assassination of FSA captain Talal Al-Khalaf on the 14th of February. Full statement here.
Map showing situation in Daraa, Al-Manashiyah district outlined Source: @C_Military1
On the 17th of February 2017 CJTF-OIR has conducted 34 strikes in Syria . Half of the strikes were concentrated on Raqqa where they destroyed four tunnels, three fighting positions, three IS-held buildings, two weapons storage areas, two IS HQs, a vehicle bomb storage facility, a fuel station and a bridge.
Other areas where strikes occurred include Abu Kamal, Al-Bab and Deir al-Zour destroying oil storage & transportation units, a decoy tactical vehicle and even more oil storage & transportation units, two artillery systems and a tank, respectively. Full report on CJTF-OIR strikes conducted in both Syria & Iraq can be found here.
Intellectual credited property used may vary from an edition to edition.
Feel free to voice your opinion in the comments section below, constructive criticism is welcomed.
For those of you interested, you can follow me on my personal, biased twitter @joskobaric where I occasionally tweet some things.