Hello and welcome to the 5th installment of the SWD. Today was a slow day in Syria, so this edition of the SWD is going to be a bit shorter.
Military events are listed below by the governorates:
Aleppo:
It was widely reported today that TFSA have withdrawn from the northern districts of Al-Bab to northern farms around the city, distance of withdrawal is approximately ~600m. TFSA was either pushed out of Al-Bab by IS or they withdrew to allow Turkish air force to soften IS defenses in the northern part of the city while minimizing potential friendly casualties.
At this point there is no doubt that TFSA will capture Al-Bab as demarcation line was agreed with Russia, only thing left to see is how quickly/slowly they capture it and with which amount of casualties.
TFSA and Turkish artillery shelled SDF controlled Tal Rifaat & Menagh today and a military council from the aforementioned Tal Rifaat issued a statement "promising" to continue targeting SDF forces inside the city and advise citizens to keep distance from military targets. Full statement can be found here.
Somewhere around this time last year, SDF took control of Menagh & Tal Rifaat, targets of today's shelling could be accidental as the shelling is very frequent or it was intentional giving an indirect warning that they plan on recapturing the area.
In a desperate attempt to slow down SAA Tiger Forces advance towards Deir Hafer, IS started pumping water from the lake Assad to flood villages in Deir Hafer plains region. Same tactic was used by IS back in the August of 2016 in Iraqi city of Qayyarah, but on that occasion they flooded town with crude oil and tried to burn it.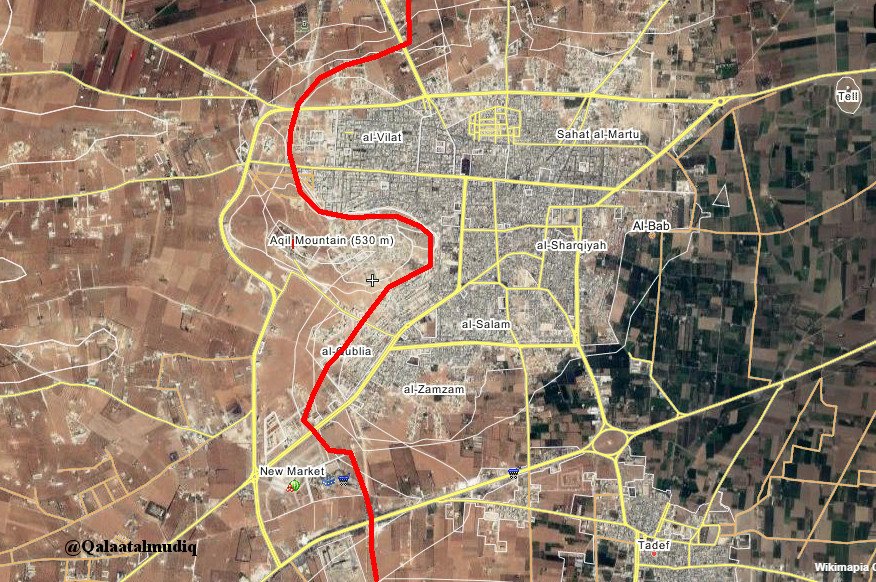 Current frontline in Al-Bab based on the latest footage (left TFSA, right IS). Source: @QalaatAlMudiq
Photo showing canal IS is using to flood the villages (red) Source: @SyrianMilitary
Raqqa:
SDF took control of villages Sayyad and Hassan Zaid from IS, official statement here, also a 2nd part of the 3rd phase of Wrath of Euphrates operation has started. Aim is to capture E. Raqqa countryside and cut connection between Raqqa and Deir al-Zour. Forces part of Deir al-Zour military council will participate also as it was stated in a press release found here.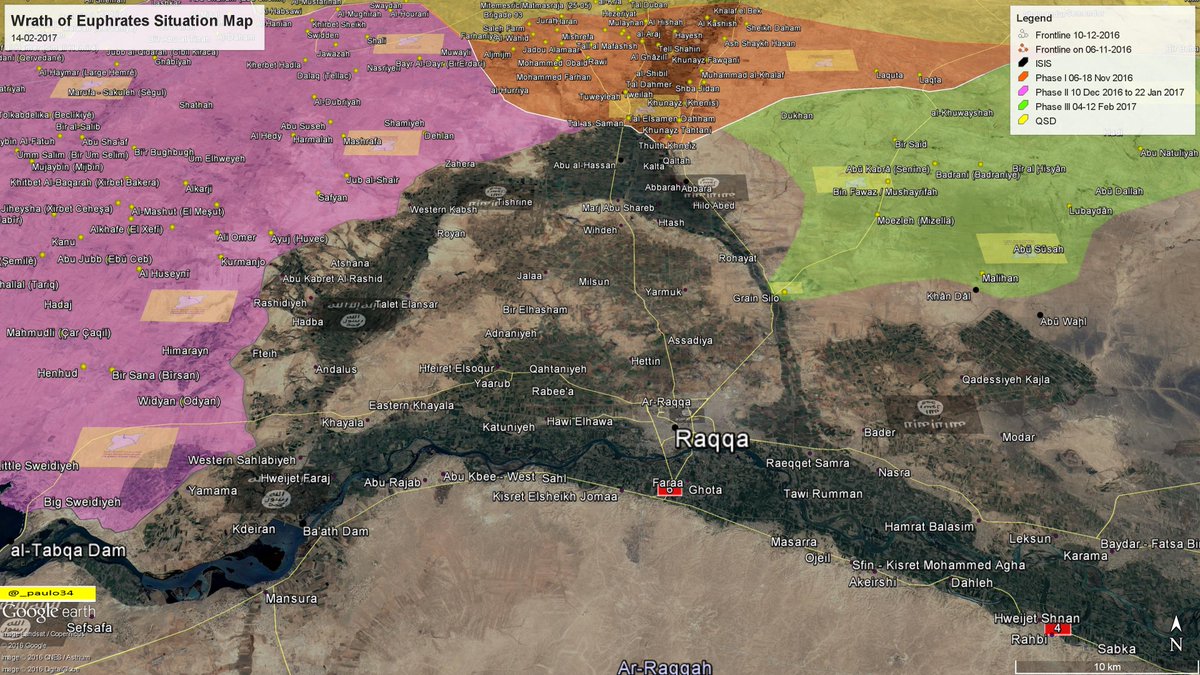 Map showing progress made by SDF throughout the Wraith of Euphrates operation, not up to date with the newest advances. Source: @_paulo34
General:
According to Al-Masdar, Syrian Foreign Ministry forwarded a statement to the UNSC trying to get the international community to put pressure on Turkey to end their operation and withdraw from Syria. Full article here.
It is obvious that there is some level of coordination on relation Ankara-Damascus, maybe not directly, probably through Moscow, but nonetheless some indirect level of coordination does exist. Recent proof of that is a demarcation line in Al-Bab agreed by Turkey and Russia.
This statement could be Syria going rogue and protesting over TR-RUS agreement in which they maybe didn't have a say in, or it could be that this statement was issued with the approval of both TR and RUS and it's just a sham to give false impression with something big going on behind closed doors between TR-RUS-SY.
On the 16th of February 2017 CJTF-OIR has conducted 15 strikes in Syria . Strikes were concentrated on Abu Kamal, Deir al-Zour, Shaddadi and Raqqa where they destroyed 4 oil pump jacks, oil storage & transportation units & an IS HQ, weapons facility & and IS HQ and 3 tunnels, an oil pump jack & an oil wellhead, respectively. Full report on CJTF-OIR strikes conducted in both Syria & Iraq can be found here.
Intellectual credited property used may vary from an edition to edition.
For those of you interested, you can follow me on my personal, biased twitter @joskobaric where I occasionally tweet some things.