Hello and welcome to the 4th installment of the SWD.
Military events are listed below by the governorates:
Aleppo:
One of today's big stories propagated by the MSM included death of 24 people in Al-Bab due to Turkish bombardment, this comes after the news that last night ES launched new phase of the Al-Bab operation.
This morning a post arose on FB unofficially stating casualties of the ES operation. Supposed number of TFSA killed is 469 and 1712 wounded, TAF allegedly lost 64 soldiers and other 386 are wounded. Source: Abdullah Ağar
Last night according to some reports clashes erupted between SDF and TFSA after the former allegedly tried to infiltrate the village of Hazwan, intrusion was reportedly repelled.
SAA Tiger Forces continued their advance in the direction of Deir Hafer and took control of Humaymiyah hill. Unconfirmed reports of an IS SVBIED targeting government troops somewhere in between Shuwaylikh and Rasm al-Kabir.
Map of the E. Aleppo countryside showing newly captured Humaymiyah hill (circled). Source: @MIG29_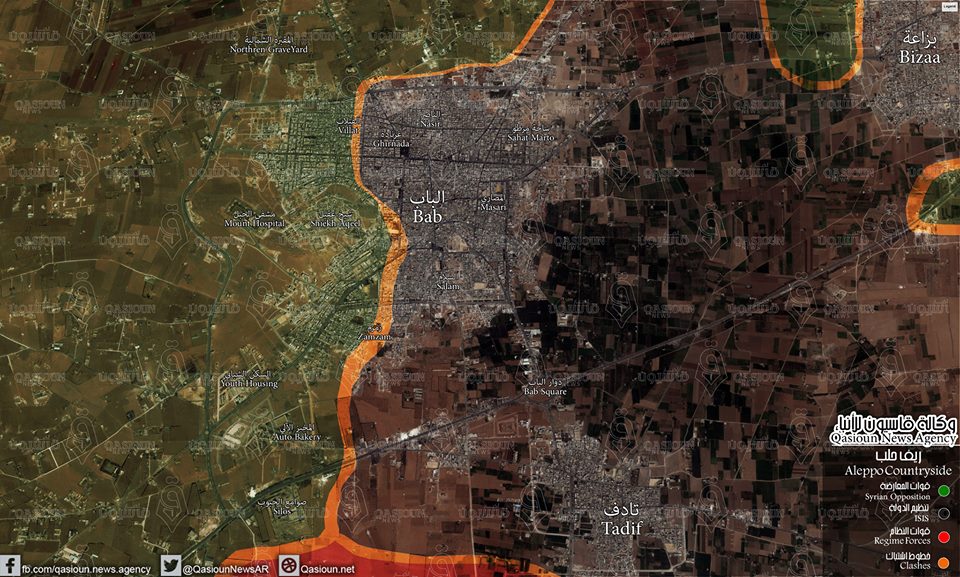 Map showing situation in Al-Bab city. Source: Qasioun News Agency
Homs:
SAA are reportedly advancing on the multiple fronts against IS in the E. Homs countryside, in direction of Jahar & Mahr oil fields and towards Jabal al-Tar and Jabal al-Hayyal. SAA are also approximately 15km away from the Palmyra Triangle. Demining operations are underway in Hayan gas facility.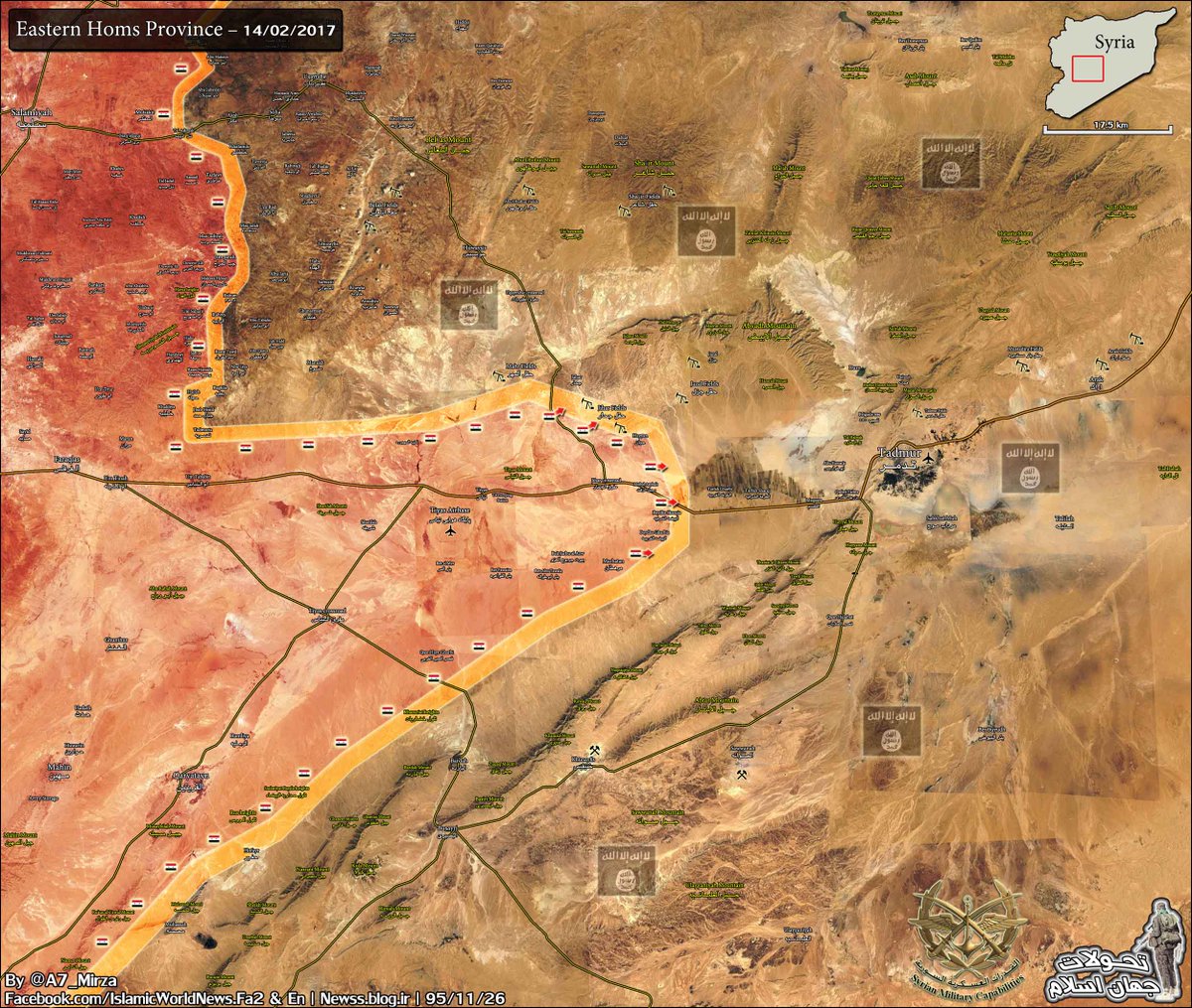 General map of the E. Homs countryside. Source: @A7_Mirza
Daraa:
No new rebel advances have been reported today in Daraa. Statement released by the Al-Binyan al-Marsous operation room declares that the reason for the rebels offensive are continuous government ceasefire violations, statement also includes groups that are participating in the offensive, some notable ones include; HTS, AAS, JAI and groups mainly from SF, full statement can be found here.
Wounded rebels are not allowed to enter Jordan as the border is still closed due to recent rebel offensive. Jordan is looking to de-escalate situation in Daraa by even going as far as threatening not to pay salaries to the fighters.
Earlier this month Amman stated that once SAA re-establishes control of the border, Jordan will fully open it. Current offensive doesn't suit Jordan's interests as they are more interested in political solution after realizing they probably won't be able to force Assad to step down. Aleppo may be the cause for the shift of Amman's policy. Trying to reconcile still predominately moderate south with the current Syrian state and uniting them against radical groups such as HTS and IS is Jordan's new main priority.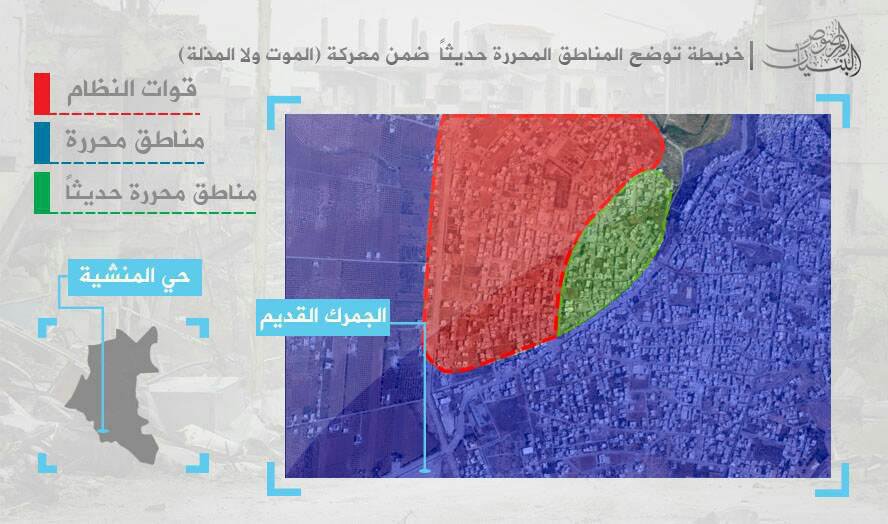 Official map of the rebel advances in Al-Manshiyah (green), shows advances in the NE area which are universally acknowledged.
In the other big news today, current president of the Syrian Arab Republic Bashar al-Assad actually praised Donald Trump's infamously known "muslim ban" saying that it targets terrorists and not Syrian people. You can read full article here.
This could be just an attempt to cozy up and get on the good side of the new US administration in an effort to get them to change their foreign policy regarding Syria.
On the 15th of February 2017 CJTF-OIR has conducted 17 strikes in Syria . Strikes were concentrated on Abu Kamal, Raqqa and Deir al-Zour where they destroyed oil storage & transportation units, an IS HQ and even more oil storage & transportation units, respectively. Full report on CJTF-OIR strikes conducted in both Syria & Iraq can be found here.
Intellectual credited property used may vary from an edition to edition.
For those of you interested, you can follow me on my personal, biased twitter @joskobaric where I occasionally tweet some things.