Hello and welcome to the 3rd installment of the SWD. From this edition forward abbreviation tags will be added to make text easier to understand, abbreviated words are underlined and offer words in their full lenght when you hover over them.
Military events are listed below by the governorates:
Aleppo:
A lot of semi-important things have happened in the governorate of Aleppo in the recent time period.
Turkey asked all armed groups based in Azaz to leave the city as they are going to be replaced by a police force trained in Turkey, similar to what has happened in Jarabulus. IS targeted TFSA with a suicide attack east of Al-Rai which left a few of the TFSA dead. Last night TFSA tried to storm SDF held Maranaz with unconfirmed reports that an assault started with a "remotely detonated" VBIED which then resulted in mutual shelling.
One interesting pattern that can be observed is that whenever TFSA fails to advance or loses territory to IS, shortly after SDF bears the brunt of it. It has became a habit for TFSA to deal with failure by shelling SDF and venting out their frustration on them. In the most cases SDF just hunker down and wait it out.
SAA Tiger Forces liberated the villages of Rasm al-Kama, Rasm al-Kabir and Shuwaylekh. New info related to Tiger Forces declares that the last groups of TF soldiers handed over their position around T4-AB area in Homs governorate to the 5th Corps and are on their way to Al-Bab region.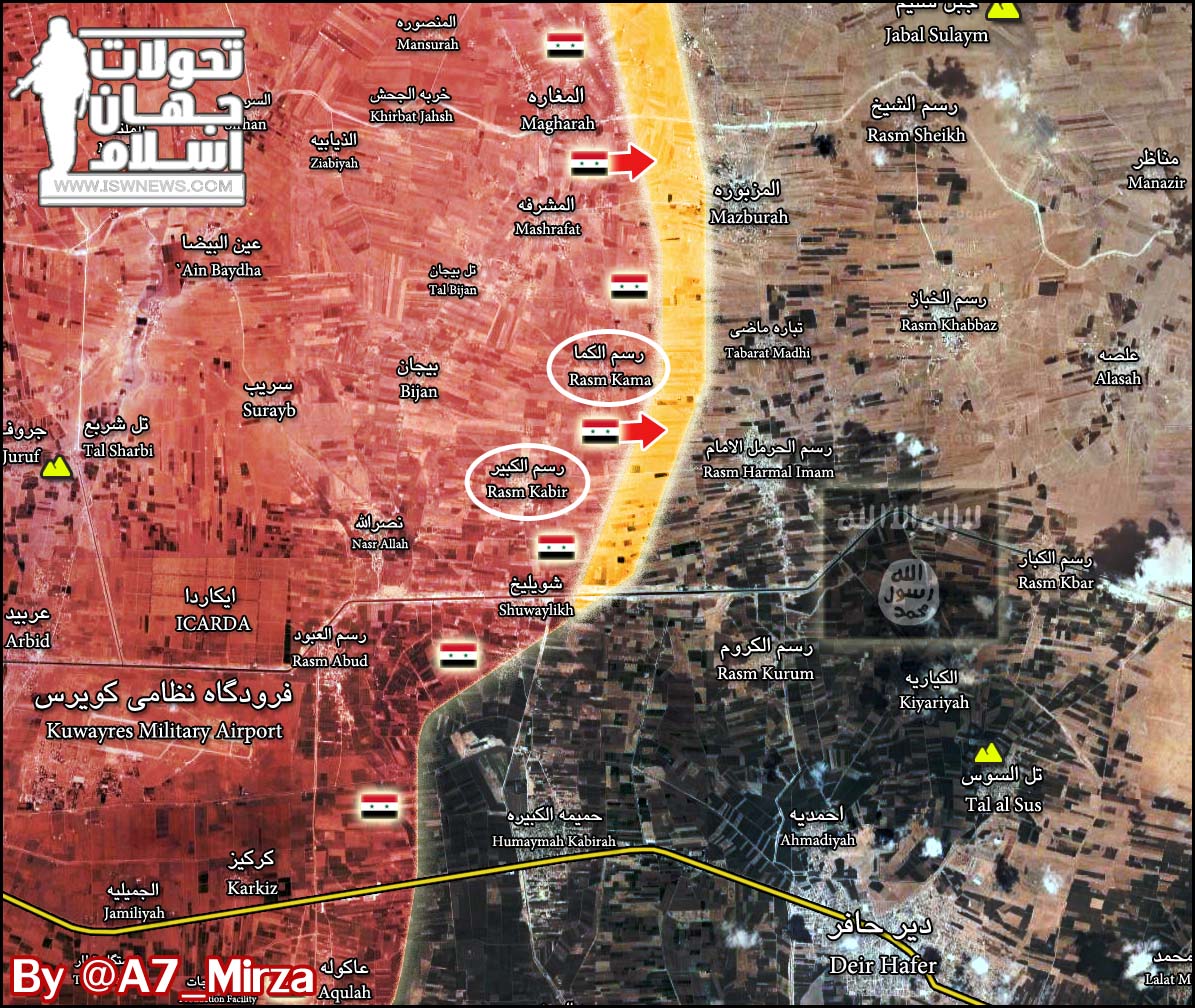 Map of the recent advances in the E. Aleppo by the SAA Tiger forces. Source: @A7_Mirza
Homs:
It appears that IS armed drones tactic from Iraq made its way to Syria, more specifically Homs governorate. New footage release by the group showcases usage of the aforementioned drones against government troops. In the following photo which can be found here, an attack caused 3 casualties.
Unconfirmed reports of an IS counter-attack on the orchards and Hayyan company recently captured by SAA, we will just have to wait and see if it's real and if it amounts to anything.
Hama:
In the S. Idlib – N. Hama region, heavy clashes are still raging between LAA and HTS, the latter managed to expel the former from a couple of towns leaving LAA only in control of Khan Sheikhoun and Morek. Negotiations for evacuation of LAA from the towns to IS-held areas are happening. This evening LAA has withdrawn from Hish and it's under HTS control now.
Map showing LAA-held areas (black). Source: @abdulwahab2070
Damascus:
Ahrar al-Sham raid took place this morning at Mount Hermon near the Beit Jinn pocket seizing ammunition caches and nothing particularly interesting, but what is interesting is statement made by AAS that claimed 50 government soldiers were killed in the raid. To compare, as it's stated below, government lost 41 soldiers during 3 days of intense clashes with rebels in Daraa, but this morning AAS single-handedly managed to kill more than that. Number of the confirmed casualties is 5 soldiers, with number possibly going a bit higher, but nowhere near the imagined 50. Here is the album of the raid showing seized booty for those interested.
To talk realistically, this raid may have done more harm than good, it is almost similar as to what has happened to Wadi Barada with the water source fiasco. Negative attention received from the raid could move them up the ladder in the SAA's priorities as in, after which pocket to go next. It is possible for the Beit Jinn to be connected / relieved by rebels stationed in Quneitra province, but it is very unlikely that this course of action is going to take place.
Daraa:
Fighting still continues in Al-Manashiyah district with Al-Binyan al-Marsous operations room claiming more advances in a new statement announcing control of Rahman bakery and Arouj kindergarten. Full statement can be found here. After the dust has settled in Daraa, both sides recognize rebels advance in the NE part of Al-Manashiyah capturing Najjar block and the great mosque.
Since the start of the operation 3 days ago confirmed death toll is at least 71 for the rebels and 41 for the government troops.
Map of Daraa showcasing situation amid rebel advances in the Al-Manashiyah. Source: @loomisroberto
New assassination has hit Daraa governorate, FSA captain Talal Al-Khalaf was killed by an IED last night. Al-Khalaf was one of the first to defect and join revolution. He was arrested shortly after on the 29th of June 2011 at Deir Al-Zour military airport. In 2014 Al-Khalaf was exchanged and later formed his own task force which was part of the SF.
Official statement by the group on the death of Al-Khalaf can be found here. He also participated in the recent Astana peace talks. Info transmitted by @IvanSidorenko1.
Assassinations in Daraa are nothing unusual and they seem to target moderate, influential leaders who are interested in reaching a reasonable political solution to the Syrian conflict. Radical groups appear frightened whenever there is a talk about political solution in the south and they go around bullying anyone who dares to oppose them. Tactics used by radicals such as roadside IEDs are perfect for eliminating ideological opponents in an indirect way that doesn't slander them.
However, radicals are gaining power in the south and soon enough they won't have to resort to such concealed actions. They will be strong enough to go around looting and forcing moderates to join their ranks, same kind of situation that is happening right now in Idlib with the newly formed HTS.
Photo of the now deceased Talal Al-Khalaf.
On the 14th of February 2017 CJTF-OIR has conducted 18 strikes in Syria . Strikes were concentrated on Abu Kamal, Raqqa and Deir al-Zour where they destroyed an oil pump jack, 13 fighting positions, tactical vehicle, an IS HQ and oil storage & transportation units, respectively. Full report on CJTF-OIR strikes conducted in both Syria & Iraq can be found here.
Intellectual credited property used may vary from an edition to edition.
For those of you interested, you can follow me on my personal, biased twitter @joskobaric where I occasionally tweet some things.